Arizona Car Accident Lawyers
Call (800) 863-5312 for Your Free Consultation
Car accidents happen at an alarming rate not only across Arizona but also throughout the nation.
A motor vehicle crash can drastically change a life in a split second, as a victim may need weeks, months, or even years to recover from their injuries, and many never completely heal. Moreover, crash victims are left with exorbitant expenses for medical bills and property damage, and those issues are compounded by having to miss work due to an injury.
If you or a loved one has been injured in a collision, call Zinda Law Group at (800) 863-5312 for a free consultation with an experienced Arizona car accident attorney.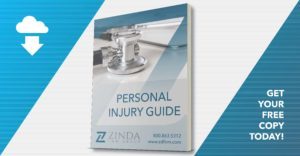 Why Car Accidents Happen
The majority of car accidents occur because of driver negligence or carelessness. Today, roads are filled with drivers distracted by cellular phone calls, text messages, and emails while behind the wheel. Other major factors in many accidents are alcohol and speed.
New drivers are taught to drive defensively, which is a goal that all motorists should strive for whenever they are driving. It is not safe to assume that those around you are doing their best on the road.
What to Do If You're in a Car Accident
If you are in a car accident, the most important thing is to attend to your injuries and those of the other people involved. Any legal considerations are small in comparison to immediate physical injuries. Call 911 or other emergency response personnel if people are injured. Remember that properly trained medical personnel are the best people to evaluate injuries.
It is also important to remember that even low-speed collisions can produce traumatic injuries and that sometimes those injuries do not leave a visible mark, so play it safe and let the experts decide.
Next, try to remember that car accidents are stressful for all involved and that you should try to remain calm at the scene. If there is a lawsuit about the accident, nothing is more embarrassing than rehearing one's own words spoken in anger in court.
Do your best to take care of any injuries to yourself, assist the other people at the scene, including the other driver, and cooperate with law enforcement. If you are able to, you should exchange contact and insurance information with the other driver. This will greatly assist the insurance company or any attorneys in opening the case if it becomes necessary.
Legal Considerations of Car Accidents
First, if you are at fault in an accident, your insurance premiums could potentially rise. Whether or not this happens depends on a variety of factors, including your past driving record, age, mitigating facts, and other risk factors.
Regardless of whether anyone was injured, you should do your best to communicate mitigating factors to the police and your insurance company. Insist that the police officer include your comments in their report if possible. Also, in reporting the incident to your insurance company, make sure you insist that they note mitigating factors as well.
Mitigating factors could include:
Weather;
Road conditions;
Actions of another driver not involved in the accident; or
Actions of the other involved driver.
If the other driver was found to be at fault, or a ticket is issued, make sure that your version of the incident is recorded in the crash report. If you are called to court as a witness, you should plan to attend. If the court dismisses the ticket, this could change your standing with your insurance company and any potential lawsuit regarding fault.
If anyone was injured in the accident, it is in your best interest to contact a personal injury attorney immediately. Zinda Law Group does not charge for a consultation, and the legal guidance you receive will protect your rights throughout the process.
Types of Damages
There are numerous types of losses you can suffer if involved in a car accident. First, there is the damage to or loss of your automobile. Most people in Arizona rely on their automobile to transport them to work and its loss can cause immediate problems.
Next, there are the physical damages sustained by the driver and passengers of the vehicle. Remember that costs of medical treatment can include follow-up procedures and rehabilitation treatment, some of which can drag on for many months after the accident.
It is also important to consider loss of wages or income for the periods of time you miss work for medical treatment or recuperation. These damages can be recovered from the responsible party or their insurer.
All of these types of damages are compensatory, meaning they are designed to return the injured party to the state they were in before the accident. In some cases, punitive damages are available to punish the wrongdoer and serve as a warning to others. These damages are usually awarded when the other party was reckless or criminally irresponsible.
The best thing to do if you are injured in a car accident is to file a claim on the other driver's insurance or your own. If you are concerned that the insurance company will not fully compensate your losses, you should speak with an Arizona car accident attorney. Remember, auto insurance is required by law for a reason. Nevertheless, many people still drive without it. Make sure to keep your insurance current and always purchase uninsured or under insured motorist coverage to protect you from motorists with no liability insurance. Statistics tell us that most people will be involved in an auto accident during their driving career.
Our Arizona Car Accident Lawyers Can Help
At Zinda Law Group, our team of personal injury attorneys has helped many people across Arizona seek the compensation they deserve after a car accident. If you've been injured in a wreck, you may be entitled to recover damages for medical expenses, property damage, lost income, pain and suffering, and more.
To learn more about your legal rights, call Zinda Law Group today at (800) 863-5312 for a free consultation with one of our experienced Arizona car accident lawyers. Meetings with attorneys by appointment only.