Bicycle Accident Lawyers in Austin
Call (800) 863-5312 to Speak with Austin Bicycle Accident Lawyers for Free
In a serious bicycle accident injury case, an effective personal injury attorney can be key to a proper recovery. That's why our firm is dedicated to providing people in Austin with crucial legal assistance. If you decide to hire us, you will pay nothing unless we win your case. That's our No Fee Guarantee.
To see what an accident lawyer from our firm can do for your case, call Zinda Law Group at (800) 863-5312 for a free case evaluation with our Austin bicycle injury lawyers.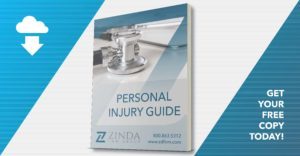 Given the popularity of bicycles throughout Austin and the central Texas area, it should come as no surprise that this region is amongst the nation's leaders in terms of bicycle accidents. Recent surveys indicate that Travis County is second only to Harris County in terms of the total number of bicycle crashes per year.
To see what an accident lawyer from our firm can do for your case, call Zinda Law Group at (888) 314-6671 for a free case evaluation with our Austin accident lawyers.
You May Be Entitled To Compensation
Steps to Take After An Accident on a Bicycle
Bicycle accidents are a common occurrence throughout the country. This is especially so for cities like Austin, where a significant percentage of people rely on bicycles for transportation. Understanding what to do in the event of an accident can be very helpful not only concerning your health and well-being but also with respect to your chances when seeking fair compensation for any damages and injuries that may result from the accident.
1. Get medical attention
The first and most important thing to do after being struck by a vehicle or other motorist is to get medical attention. Even if you have not suffered any apparent or serious injuries such as broken bones or bleeding, it is still important to seek treatment. This is because many accident victims sustain non-visible injuries such as concussions or internal bleeding. Other victims suffer internal injuries and don't begin to experience symptoms until hours or days after the accident. Seeking prompt medical attention thus increases your chances at receiving a proper and timely diagnosis of your injuries.
2. File a Police Report
Even if you think that you have not been injured, or that that the accident was only a "minor" one, it is still important to file a police report. Filing a police report of the incident will establish an official record which may be helpful when it comes to seeking compensation for your injuries and damages. When giving your statement to the police, be sure to provide as many details about the incident as possible. Remember to provide a thorough account of your injuries, even those that may seem small or insignificant.
3. Collect Driver and Witness Information
After being involved in a bike accident, be sure to obtain important information from the party that struck you. Such information includes the party's name, insurance information, and contact information (e.g., phone number, address, driver's license number). Other important information to collect includes the make, model, and license plate of the vehicle. If possible, collect the names and phone numbers of any bystanders or witnesses who may have seen the accident when it occurred.
4. Document the Evidence
One of the most important and overlooked steps of this post-accident process is to create a thorough and organized account of the incident. This means keeping a file of every piece of important information relating to the accident. Such information includes photographs of your injuries, photographs of your damaged bicycle, a copy of the police report, and a copy of all medical records relating to the accident. This evidence can help build the strength of your case, thereby increasing your chances at receiving just and fair compensation.
5. Speak with an Attorney
Finally, you should consider discussing your case with a personal injury attorney. A personal injury attorney will listen to your version of the events and provide you with an opinion regarding your best course of action moving forward. An attorney can gather critical evidence by conducting investigations and speaking to witnesses. Lastly, an attorney can help you deal with insurance companies who may try to get you to settle a claim for less than what the claim is worth.
Learn More: Does Auto Insurance Cover a Bicycle Collision in Austin?
How To File An Accident Claim
If you wish to seek compensation for injuries and damages sustained following an accident, you may need to file a lawsuit against the party that caused your injuries. Below are several important steps that comprise the process of filing a lawsuit after an accident while riding your bike.
1. File a report
The first step towards filing a lawsuit is to file a police report. As previously mentioned, filing a report will create an official record of the incident, which can be favorable to you when it comes to building the strength of your case.
2. Contact an Attorney
The next step is to contact a personal injury attorney. A personal injury attorney can provide valuable legal services for the ultimate purpose of making sure you seek fair compensation for your injuries and damages. Some of these services include communicating with insurance companies who may be reluctant to pay the full value of a claim. An attorney will also be able to represent you if your claim ends up being litigated in court.
3. Investigation
The investigation phase of a lawsuit involves the attorney gathering facts and evidence which will establish that the party that caused your accident is legally liable for your injuries. Part of this process involves accounting for each of your damages, such as medical bills, lost wages, and property damage. This step may also involve interviewing witnesses who may have seen the accident when it occurred. The investigation phase also involves gathering important documentation such as the police report, medical records, and photographs of your injuries.
4. Settlement and Lawsuit
Finally, it may be necessary to litigate your case. Before litigation, you may have the option of accepting a settlement from the at-fault party or the party's insurance company. If it is not in your best interest to accept the settlement offer, your case will go to court.
Types of Accidents
We represent people who have had the misfortune of suffering personal injuries because they were involved in a collision involving bicycles.
Many of the collisions involve:
Trucks
SUV's
Semi-tractor trailer
These accidents tend to be caused by:
Distracted Riding/Driving
Speeding
Ignoring Street Signs or Lights
Driving Under the Influence of Drugs or Alcohol
The injuries you suffer as a result of these accidents can be difficult to endure for both you and your family. There are a variety of damages that often occur in these incidents, such as:
Road rash/Cuts/Bruises
Nerve damage
Dental injuries
Paralysis
Death
Our firm represents individuals who have suffered bike and motorcycle accidents. We understand that the injuries suffered from bike crashes can be severe and life-altering for both the victim and the family.
Who is at Fault?
Texas has a comparative fault rule of law, which means that the fault for an accident can be split up between two or more parties. Whether or not an injured cyclist can receive compensation for his or her injuries requires determining that individual's percentage of fault. If the driver of the automobile is found to be 50% or more at fault, the injured cyclist will likely be able to seek some compensation for his or her injuries and damages. Listed below are several common scenarios that result in bicycle accidents, followed by a brief analysis of determining fault for each scenario.
Car Turns In Front of a Cyclist
One of the most common scenarios giving rise to bicycle-automobile collisions is when a driver attempts to make a right-hand turn, cutting off a trailing cyclist. Although drivers may look for oncoming traffic in front of them, they sometimes forget to check their side-view mirrors to see if there is a trailing cyclist. If the driver turns and collides with a cyclist, it is likely the driver's fault.
Driver Opens Car Door Into a Cyclist
This scenario happens very frequently. A driver in a parked automobile will open his front door without bothering to check if any cyclist is in the area. In these situations, if the cyclist collides with the door, the driver will likely be at fault.
Car Pulls Out from Driveway or Parking Lot
This scenario may give rise to more accidents than any other. As a driver exits a driveway or store parking lot, he fails to check for oncoming cyclists, leading to a serious collision. Because cyclists have the right-of-way, these accidents often result in the driver being found at-fault.
Running a Stop Sign or Traffic Light
These cases may be simpler than the others. If the driver of an automobile runs a stop sign or red light and collides with a cyclist, it is highly likely that the driver will be liable for the cyclist's injuries and damages.
Similarly, if a cyclist runs a stop sign or red light, he or she may be liable for any resulting damages. Because cyclists are expected to follow the same traffic rules as drivers, this scenario may result in the cyclist being denied compensation for his or her injuries.
Bicycle Laws in Austin
Although cyclists are riding a bicycle and not driving a motor vehicle, cyclists must obey the same traffic laws as motorists, unless otherwise directed by a police officer, traffic signal, or street sign. Here is a helpful checklist of some of Austin's bicycle laws and regulations:
Children ages 17 and under are required to wear a bicycle helmet
To be visible when riding at night, a bicyclist must have: (1) A front white light visible from at least 500 feet in the front, and (2) a red reflector or red light in the rear
Using a portable electronic device (e.g., cell phone, iPod, etc.) while operating a bicycle is prohibited
Riding a bicycle on the sidewalk is allowed, except for parts of downtown Austin and on The University of Texas campus
Parked bicycles must not impede or obstruct pedestrian traffic on sidewalk paths
Parked bicycles must not be attached to public or private property in a manner that may damage the property
What Compensation Can I Claim?
When estimating the value of your case, there are categories of losses that are taken into account when calculating compensation. Otherwise known as "damages.", these losses combined may help you to understand the value of your claim. The damages that may be awarded to a victim of a cyclist accident can be separated into two broad categories: Economic damages and Non-economic damages.
Economic Damages
These damages can be quantified regarding the victim's injuries. The main economic damages involved in an injury lawsuit are medical bills, lost income, and property damage. Medical bills include costs incurred by the victim for hospital treatment, doctors' appointments, rehabilitation services, medication, and physical therapy. Lost income includes the time the victim missed from work due to the injury.
If the injury prevents or impairs the victim's ability to work in the future, lost income may also include the victim's loss in earning capacity. Property damage refers to the wrecking or destruction of the victim's personal belongings, such as the bicycle itself and the clothing the victim was wearing at the time of the accident.
Non-economic Damages
These damages refer to intangible losses that are subjectively evaluated by the jury in an injury lawsuit. Although assigning a concrete dollar value to non-economic damages may be difficult, non-economic damages are often more valuable than economic damages. Types of non-economic damages may include pain and suffering, emotional distress, disfigurement, disability, and loss of consortium.
Punitive Damages
These damages are awarded to punish the wrongdoer. Punitive damages are rare but may be awarded in a lawsuit if the accident resulted in wrongful death. In such cases, punitive damages may be awarded the victim's surviving spouse or family members if the at-fault party's conduct was found to be especially reckless, egregious, or intentional.
How Long Do I Have to File A Lawsuit?
A "statute of limitations" acts as a time-limit on which a person must initiate a lawsuit. If a party fails to bring a claim within the statute of limitations, that party is effectively barred from pursuing their claim.
In Texas, there is a two-year statute of limitations for personal injury claims. A claim following a cyclist injury is considered a type of personal injury claim. This means that a party that is injured must file a lawsuit within two years of the date of the accident.
If the accident resulted in death, a wrongful death lawsuit might be initiated. This type of claim also carries a two-year statute of limitations. For these cases, a lawsuit must be initiated within two years of the date of death.
In cases of minor children, the statute of limitations is "tolled," or extended, until the child reaches the age of majority or until the child is legally emancipated. The child then has two years from then to file a lawsuit. However, a parent may be able to bring a case forward for the child before this time. Speak with your lawyer to understand more about what you can do when your child is injured.
Our Bicycle Accident Attorneys Will Fight on Your Behalf
Our experienced Personal Injury attorneys will discuss your situation and go over the options available to you as well as work with insurance companies and other parties involved in your case to make sure your needs are handled properly. We can determine if someone is responsible for your injuries or your loved one's injuries.
Call Zinda Law Group today at (800) 863-5312 for a free consultation to determine if we are able to help with your case.
Meetings with attorneys by appointment only.
Recommended Reading: