Drunk Driving Accident Lawyers in Austin
Call (800) 863-5312 for a Free Consultation with Austin Drunk Driving Accident Lawyers
If you have been injured in a crash caused by a drunk driver, the Austin drunk driving accident lawyers of Zinda Law Group can help. You may be entitled to significant financial compensation for all the ways the wreck and your injuries have impacted your life.
Our drunk driving accident attorneys have the knowledge and resources necessary to help you seek full damages for medical bills, property damage, lost income, pain and suffering, and much more. And as one of our clients, you will pay nothing unless we win your case.
Call Zinda Law Group today at 800-863-5312 to get started with a 100% free consultation with one of our drunk driving accident lawyers in Austin.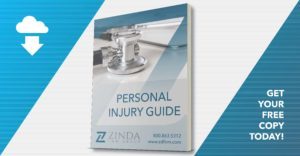 How Do I File a Claim?
Drunk driving is a very serious crime and is not to be taken lightly. The State of Texas will often punish a drunk driver by filing a criminal case against them. You should be aware that you have the right to file a civil lawsuit as a victim of a drunk driving accident.
Even if the state files a criminal case while you are filing a civil lawsuit, they can still result in different verdicts and consequences for the defendant. This is where our Austin drunk driving accident lawyers can help.
Our accident attorneys can investigate the wreck, file all necessary documents, and negotiate with the drunk driver's insurance company in order to get you the maximum settlement possible. And if the insurance company is unwilling to negotiate a fair settlement, we are prepared to take your case to court.
Innocent Victims of Drunk Drivers
There are many benefits to filing a civil lawsuit against a drunk driver. The first and foremost is being able to collect damages. If your lawsuit is successful, the settlement may result in financial compensation for you and your family. This compensation can cover your medical expenses, lost income, and the pain and suffering you have to go through after an accident.
Filing a civil lawsuit also ensures that justice is served on the individual who chose to drive under the influence of alcohol. If they were served alcohol at a bar or restaurant, that establishment could possibly be held responsible under certain circumstances.
We understand how painful and stressful it is to suffer through an accident, and our firm wants to be there to assist you during this difficult time. We at Zinda Law Group make it our business to educate our clients on what their rights are so that they can make informed decisions about their case. We are dedicated to protecting our clients' rights and fighting aggressively for what they deserve. Our mission is to obtain maximum compensation on your behalf and to make your life as stress-free as possible after an accident.
Drunk Driving Statistics
The National Highway Traffic Highway Safety Administration (NHTSA) keeps track of accidents involving drunk drivers. A drunk driving accident is considered any type of traffic accident involving a driver with a blood alcohol content at or above the legal limit, .08 percent. For 2009, the statistics regarding drunk driving accidents are as follows:
Over 10,830 fatalities due to drunk driving accidents occurred
A fatality due to drunk driving occurred every 48 minutes on average
32 percent of all traffic fatalities were due to drunk driving
67 percent of the drunk driving fatalities were drivers with a BAC of .08 percent or higher
Get Help from Experienced Austin Drunk Driving Accident Lawyers
If you or a loved one has been injured by a drunk driver, the Austin car accident attorneys at Zinda Law Group have the knowledge and resources necessary to help you seek maximum compensation for damages.
We are an Austin personal injury law firm that has helped thousands of drunk driving accident victims get their lives back on track after a wreck, and we will handle the entire legal process for you while you focus on what is most important: your recovery.
Call us today at (800) 863-5312 to receive a 100% free consultation with one of our Austin drunk driving accident lawyers.
Meetings with attorneys are available by appointment only.