Car Accident Lawyers in Denton, Texas
Call (800) 863-5312 to Speak with Denton Car Accident Lawyers for Free
Were you injured in an auto accident caused by another driver's negligence? The Denton car accident lawyers at Zinda Law Group can help you pursue compensation for medical bills, vehicle damage, lost income, pain and suffering, and more.
Our Denton car accident attorneys want to see to it that you are fairly compensated for all the ways the accident cost you as a victim. We will help guide you through the legal process and negotiate with insurance companies on your behalf.
To learn more about how we can help you, call Zinda Law Group today at (800) 863-5312 for a 100% free case evaluation with our Denton car accident attorneys.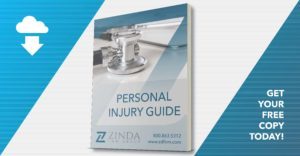 Figuring Out What's Fair
Most insurance companies train their adjusters to use a formula when calculating a settlement value for accident victims. Through this method, people are viewed as a number rather than a human being whose life was impacted by their injuries. To bolster the strength of your case, you need to provide factual evidence that may include:
The facts regarding how the accident happened, including a copy of the police report, photographs of your injuries and damage to your vehicle. Testimony from witnesses is extremely valuable.
Medical records showing the types of treatment you received. Make sure that you continue to obtain medical care regularly. Missed appointments may indicate that your condition is not serious.
Keep a diary of how your injuries have affected your life emotionally and mentally. Accident victims often experience post-traumatic stress disorder or their physical pain may prevent them from engaging in activities they once enjoyed, such as basketball or swimming.
Lost income due to not being able to return to their job.
While all of these expenses and damages seem realistic through your eyes, the insurance adjuster will not see it that way. These are trained professionals whose primary goal is to keep the most money in the insurance company's pocket. Be prepared for the first offer to be far below your expectations. Don't be disappointed or become emotional. Focus on negotiating with a calm and cool head.
Presenting Your Case to the Insurance Adjuster
When organizing your demand package, state your case in clear and convincing language. Do not over-dramatize the events, but be convincing about how the car accident has affected your life. You can use examples such as, "I can no longer pick up my baby when she cries due to the amount of physical pain I am experiencing."
Outline the number of times you have sought medical treatment. Include copies of any reports that you have received from doctors and what the prognosis is regarding future care. Severe injuries may require several surgical procedures or extended physical therapy to regain movement.
Get Help from Our Denton Car Accident Lawyers
Car accident victims should seek legal advice from an attorney before trying to deal with the insurance company. Our Denton personal injury attorneys can prepare you so that you don't accidentally say something that may hurt your case. Our car accident lawyers deal with the insurance companies every day. We are experienced and will try to negotiate the best possible settlement for your case.
We can also help you investigate your accident, get expert testimony, understand the value of your claim, and handle the entire legal process for you. Our firm also operates on a contingency fee basis, which means if we don't win, you don't pay. 
Call Zinda Law Group today at (800) 863-5312 for a free consultation with one of our skilled Denton car accident lawyers. Meetings with attorneys by appointment only.