Personal Injury Lawyers in McKinney, Texas
Call (800) 863-5312 to Speak with McKinney Personal Injury Lawyers for Free
Personal injuries can be the result of any number of circumstances. Car accidents, defective products, workplace accidents, and animal attacks are just some of the possible causes of injury. If someone else's negligence is responsible for your injury, the McKinney personal injury lawyers at Zinda Law Group can help.
Some insurance companies may try to quickly get a settlement check into your hands, but don't be fooled. Insurance companies often try to protect their bottom line by paying out as little as possible to accident victims. Our accident attorneys can help you determine how much compensation you are entitled to and pursue it aggressively on your behalf. And as one of our clients, you will pay nothing unless we win your case.
To learn more about how our firm can benefit you, call Zinda Law Group at (800) 863-5312 for a 100% free case evaluation with our McKinney personal injury attorneys.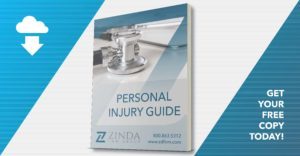 Selecting Your Personal Injury Attorney
When selecting legal representation for your accident, it is important that you select a firm with experience in personal injury law as well as an outstanding track record. There is never a guarantee that you will win your case, but choosing the right attorney will give you the best chance at getting the compensation you deserve.
The McKinney personal injury lawyers at Zinda Law Group have the knowledge, experience, and resources to help you pursue maximum compensation for all the ways your injury has cost you.
Evaluating Your Injuries
Zinda Law Group offers free consultations to answer questions and help you understand if you have a valid personal injury claim. We will try to learn about every aspect of your case and advise you on all your legal options so you can make an informed decision on the best path forward.
Our attorney team will help you seek recovery for medical bills, lost wages, property damage, future medical costs, rehabilitation, and much more. Your injuries may also include emotional trauma or pain and suffering; Zinda Law Group understands that these are legitimate injuries too and that you are entitled to be compensated for them.
Our McKinney injury lawyers can help you determine the value of your case and seek the full compensation you deserve.
Get Help from Our McKinney Personal Injury Lawyers
If you suffered a personal injury, our Texas personal injury attorneys are here to fight for you and your rights. No matter the size of your case, our legal team and all of our resources will be dedicated to making things right again for you.
Our firm also operates on a contingency fee basis, which means you will pay nothing unless we achieve a favorable settlement, judgment, or verdict for your personal injury case. That's our No Fee Guarantee.
To get started with your claim, call Zinda Law Group at (800) 863-5312 to receive your 100% free consultation with our McKinney personal injury attorneys.