Spinal Cord Injury Lawyers in San Antonio
Call (800) 863-5312 to Speak with San Antonio Spinal Cord Injury Lawyers for Free
The spinal cord is a major bundle of nerves that carries electrical impulses to and from the brain to the rest of the body. It is about as big as your index finger, and descends from the brain down through the hollows of the spinal column, or rings of bone that are called vertebrae. These bones are very strong and flexible, and protect the spinal cord from injury and trauma.
If you or a loved one has suffered an SCI, call Zinda Law Group at (800) 863-5312 for a 100% free case evaluation with our San Antonio spinal cord injury lawyers.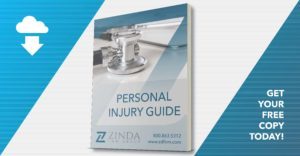 Parts of the Spinal Cord
The spinal cord itself is made up of nerve cells that carry sensory data from areas outside of the spinal cord to the brain. These sensory data carry both motor commands and pain signals that occur throughout the body. The motor commands and pain signals are then transmitted to and from certain areas of the spinal cord known as cervical (C); thoracic (T); and lumbar regions (L). Each area has several levels and translates to a specific area of the body, as follows:
C1-C4: head and neck
C3-C5: diaphragm (chest and breathing)
C5-T1: shoulders, arms and hands
T2-T12: chest and abdomen
L1-L4: abdomen, buttocks, genitals and thighs
L4-S1: legs
S2-S4: genitals, muscles of the perineum
Types of Spinal Cord Injuries
Spinal cord injuries can vary depending on the type of injury, the level involved, and the severity of the injury sustained. There are two types of spinal cord injury: complete and incomplete.
A complete injury results in the loss of all ability to feel and move below the level of injury, and an incomplete injury may result in some functioning below the level of injury.
The Foundation for Spinal Cord Injury cites the most prevalent cause of spinal cord injuries in the United States result from vehicle accidents. These types of accidents account for nearly 42 percent of all spinal cord injuries.
A spinal cord injury is not the same as a back injury, which may result from ruptured disks within the vertebrae or from pinched nerves. Rather, a spinal cord injury is the result of damage to the cord that causes a loss of feeling or mobility and a loss of function, such as:
Inability to breathe without mechanical intervention
Inability to regulate the heart rate, blood pressure or heat regulation
Sexual dysfunction
Loss of bowel and bladder control
Gall bladder and renal stones
Spasticity with increased reflexes and/or limb stiffness
Muscle atrophy
Osteoporosis and bone degeneration
Regardless of whether you suffered a complete or incomplete spinal cord injury, the injury is a very serious and life-altering event, often making it impossible to return to work or a normal lifestyle. People with spinal cord injuries often suffer long-term or life-long disabilities and monumental medical and care giving expenses.
Our San Antonio Spinal Cord Injury Lawyers Can Help
At Zinda Law Group, our San Antonio spine injury attorneys have helped victims recover compensation for medical bills, loss of income, pain and suffering, and much more. We have the knowledge and skills necessary to help you build the strongest case possible and pursue maximum recovery for all the ways your injury has cost you.
Our firm also operates on a contingency fee basis, which means you pay nothing unless we achieve a favorable settlement, judgment, or verdict for your spinal cord injury case. That's our No Fee Guarantee.
If you or a loved one has sustained an SCI, call Zinda Law Group at (800) 863-5312 for your free consultation with our San Antonio spine injury lawyers.
Meetings with personal injury attorneys are available by appointment only.
Suggested Reading: