How to Negotiate an Injury Claim with Liberty Mutual Insurance
Call (800) 863-5312 for Your Free Consultation
Liberty Mutual Insurance is, as its name implies, a mutual insurance company. This means that its policyholders, who pay premiums, are considered shareholders in the company.
This does not mean, however, that Liberty Mutual always has the best interests of those who file claims in mind. Many individuals in Dallas and beyond have reported difficulties in getting Liberty Mutual to compensate them fairly following a car accident.
If you or a loved one has been injured in an accident and are having to deal with Liberty Mutual Insurance, call Zinda Law Group at (800) 863-5312 for a free consultation with a skilled Dallas personal injury lawyer.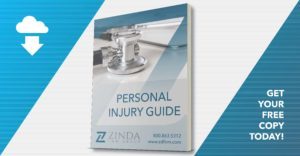 Insurance Companies Are Interested in Profits
Of course, this is not unusual. Liberty Mutual Insurance, or any other insurance company, cannot make a profit and remain in business if it must pay out more money in claims than it can take in through premium payments.
To this end, Liberty Mutual Insurance employs claim adjusters who are responsible for investigating claims and paying out as little compensation as possible. To avoid appearing biased, Liberty Mutual has resources that assign a specific dollar value for many aspects of car accidents.
For example, a specific make and model of car with a destroyed windshield may only be assigned a value of $200; a broken bone may only be assigned a value of $3,000. Your claim adjuster may try to convince you that these amounts are "reasonable" and reflect what you should be expected to pay.
Consider These Important Factors
The settlement offer made by your Liberty Mutual claims adjuster may be too low to adequately compensate you for your losses. You may be able to secure a higher settlement amount if you do the following:
Document Everything
Taking pictures of the accident scene and your injuries as soon as you can after the incident can help you during the negotiation process. By the time your adjuster views your car or visits you, injuries may have begun to heal and the car may have been cleaned up a bit. By taking pictures and showing them to the adjuster, you may be able to convince the adjuster his or her initial settlement amounts were not adequate given the severity of the car crash.
Appear Resolved and Tenacious
Trials are expensive for all parties involved, including insurance companies. Liberty Mutual Insurance does not want a claim to go to trial, especially if the claim is valid and the injured party (you) are likely to win. By insisting on fair and full compensation and showing that you are not willing to settle your claim for less than you need, you make it more likely that your negotiations with your adjuster will end favorably for you.
Determine a Minimum Settlement Figure
You cannot negotiate in any matter if you do not know what you need and what you are willing to part with. Before you even begin the negotiation process, take some time and tally up the costs of your car accident–medical expenses, lost wages, damage to your car, pain and suffering–and use these to arrive at a settlement figure. Know what you are willing to compromise on but do not compromise on those expenses and losses that are legitimate and certain.
Our Dallas Injury Lawyers Can Help
At Zinda Law Group, our Dallas personal injury attorneys have successfully taken on Liberty Mutual and countless other insurance companies. We fight tirelessly to protect the legal rights of our clients, and we have the knowledge and resources necessary to help you seek the compensation you deserve.
If you have been injured, you don't have to take on the insurance companies alone. Call Zinda Law Group at (800) 863-5312 for a free consultation with one of our skilled Dallas personal injury lawyers. Meetings with attorneys by appointment only.