Arizona Personal Injury Lawyers
Call (800) 863-5312 for Your Free Consultation
The personal injury lawyers of Zinda Law Group have helped people across the state of Arizona recover the compensation they deserve after an injury. If your injury was caused by the negligence or carelessness of an individual or company, our accident attorneys will fight tirelessly to help ensure you are made whole again.
You do not have to face the physical, financial, and emotional burdens of an injury alone. After an injury, you will probably be left to face many questions:
How will I pay for my medical bills?
How will I afford to repair or replace my damaged property?
How can I recover lost wages due to missed work?
Is the insurance company offering me a fair settlement?
It is in your best interest to have a skilled Arizona personal injury attorney on your side. Call Zinda Law Group today at (800) 863-5312 for a free consultation with one of our Arizona accident attorneys.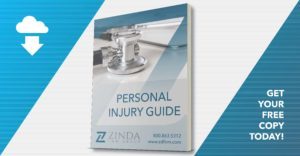 Where We Practice
At Zinda Law Group, our injury attorneys serve the entire state of Arizona, including the following cities:
If you have suffered an injury, you may have questions, concerns, and doubts about what caused the accident, what legal rights you have, and the next steps you should take to recover fair compensation.
Our Arizona personal injury lawyers can help you answers those questions and fight to protect your rights. As one of our clients, you will pay nothing unless we win your case, guaranteed!
To find out if you have a claim, call Zinda Law Group at (800) 863-5312 for a free case evaluation with an experienced Arizona personal injury attorney. 
What Is Personal Injury?
A personal injury is damage to a person that was caused by the act or omission of another person or organization. Individuals, companies, or other entities can be responsible for your injuries.
One of the most important aspects is whether your injuries were sustained due to the negligence of that individual or company. If someone's negligence caused your injury, you may be entitled to a monetary award for damages.
At Zinda Law Group, we have experience in handling many different types of personal injury cases, such as:
Motorcycle accidents
Bicycle accidents
Workplace accidents
Burn Injuries
DUI injuries
Ski or snowboarding accidents
Dog bites
Oil Field Accidents and Fracking Injuries
Defective product injuries
Spinal cord injuries (SCI)
Medical malpractice injuries
Nursing home injuries
Wrongful Death
And more
Our Arizona Personal Injury Lawyers Can Help
No matter the type of injury you have suffered, you need a personal injury lawyer with the knowledge, experience, and resources necessary to help your pursue maximum recovery.
Our Arizona injury attorneys will assist you in pursuing compensation for medical bills, loss of income, property damage, pain and suffering, and other damages stemming ftom the accident.
Call Zinda Law Group today at (800) 863-5312 for a free consultation with one of our skilled Arizona personal injury lawyers. Meetings with attorneys by appointment only.