Personal Injury Lawyers
Call (800) 863-5312 to Speak with a Personal Injury Lawyer for Free
After being injured in an accident, you may be left facing many difficult questions:
How will I pay for my medical bills?
When will I be able to get back to work?
Can I recover lost wages?
The experienced personal injury attorneys at Zinda Law Group can help answer these tough questions and advise you on all your legal rights. Having a professional and experienced legal advocate on your side could make all the difference with your personal injury case. That is why our firm is committed to giving our clients the legal assistance they need.
After your accident, you may be entitled to compensation for your medical bills, property damage, lost wages, pain and suffering, and more. The accident lawyers at Zinda Law Group can help you seek the full and fair recovery you deserve as a victim. Call 800-863-5312 today to get started with a 100% free injury attorney consultation. Our team is standing by 24/7 to assist you.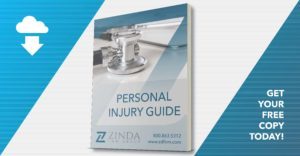 What Sets Us Apart
Trying to choose an accident attorney can be overwhelming. You need an attorney who stands out from the crowd. Zinda Law Group is a law firm experienced in catastrophic personal injury cases.
Our team of formidable attorneys is equipped with the in-depth litigation knowledge to help you in your time of need. We are confident in our ability to help you receive the justice you deserve and will use every available tool to help you seek the damages to which you are entitled.
We also operate on a No-Win No-Fee basis, meaning you will never owe us anything unless we are able to win your case.
Types of Cases We Handle
The accident attorneys at Zinda Law Group have the experience and knowledge necessary to represent you in a number of different areas, including:
Bus Accidents
Boat Accidents
Bicycle Accidents
Defective Product Injuries
Wrongful Death
And many more.
If the negligence of another played a role in you sustaining injuries, the personal injury attorneys at Zinda Law Group can be counted on to seek the compensation you deserve and to represent you in your time of need.
Where We Handle Cases
Our firm has experience handling injury cases throughout the United States, with attorneys licensed in Texas, Colorado, New Mexico, Arizona, and other states.
We have offices in Austin, Dallas, San Antonio, El Paso, Fort Worth, Waco, Denver, Boulder, Colorado Springs, Fort Collins, Phoenix, Las Cruces, and Tucson, as well as many other locations across Texas, Colorado, New Mexico, and Arizona.
Filing a Personal Injury Claim
To file a personal injury claim, full documentation of the injury you suffered is needed. You will also need documentation of any damages incurred as a result of the injury, including medical bills, treatment expenses, predicted economic losses, lost wages, and future losses.
In addition, you must address the non-economic losses that may be connected to your accident and injury. These losses could include dealing with emotional and psychological stress, pain and suffering, and a loss of pleasure from life.
Victims of personal and catastrophic injuries may be left with physical, psychological, and emotional scars. These types of damages may not be financial, but that does not mean you don't deserve compensation for them.
The personal injury attorneys at Zinda Law Group are focused on serving their clients and aiding them in obtaining the maximum compensation for their losses. We may conduct investigations into the details of your accident and hire expert witnesses to ensure that negligent parties are held responsible.
When filing a claim, our legal team can help you ensure that the claim covers all your health and medical expenses. You may be entitled to compensation for medical and hospitalization bills, rehabilitation costs, future doctor and medical bills, caretaker costs, and even reconstructive surgery costs. This may cover present and future treatments, which may be a significant expense for some injuries such as traumatic brain injuries.
If your personal property was damaged as a result of your accident--such as damage to your car in a crash--you may be able to collect money for the repairs. Other damages could include past and future lost wages.
Our Experienced Personal Injury Attorneys May Help
If you have been hurt due to the negligence of another party and have decided to file a personal injury claim, the accident lawyers at Zinda Law Group can help you navigate the legal process.
Our personal injury lawyers have helped thousands of injury victims get their lives back on track. We have the knowledge and resources necessary to help you build the strongest case possible and seek maximum compensation for all the ways your injury has cost you. We will handle all the legal aspects of your claim while you focus on what is most important: your recovery.
Our firm also believes that an injury victim should never have to worry about their ability to afford excellent legal representation. That is why we offer 100% free consultations, and why you will pay nothing unless we secure a favorable settlement, judgment, or verdict for your personal injury case. That's our No Win No Fee Guarantee.
If you or a loved one has been injured in an accident, call Zinda Law Group today at (800) 863-5312 for a free consultation with one of our experienced personal injury lawyers.
Meetings with attorneys by appointment only