Personal Injury Lawyers Serving San Antonio
Call (800) 863-5312 to Speak with San Antonio Personal Injury Lawyers for Free
If you or a loved one has been hurt in an accident, the San Antonio personal injury lawyers at Zinda Law Group can help. Injuries often leave victims with not only physical pain but also lasting emotional and financial burdens, as well as many serious questions:
How will I afford my medical bills?
Can I recover lost income from missed work?
Is the insurance company offering me a fair settlement?
At Zinda Law Group, our accident attorneys can answer your questions and advise you on all your legal options so you can make an informed decision on your best path forward. We have the experience and resources necessary to help you pursue maximum compensation for damages, and we can handle the entire legal process for you while you focus on healing. As one of our clients, you will pay nothing unless we win your case.
To learn more about how our firm can help you, call us at (800) 863-5312 or chat today for a 100% free case evaluation with our San Antonio personal injury attorneys.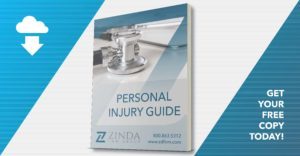 Types of Cases We Handle
At Zinda Law Group, our personal injury attorneys have decades of experience handling a wide range of cases, including:
No matter the type of accident that caused your accident, if someone else's negligence was to blame, our San Antonio personal injury lawyers can help you pursue the compensation and justice you deserve.
Our Attorneys Can Handle the Insurance Company
In the days following your accident, you may be pressured into taking a settlement offer from the other party's insurance company. This is done because the insurance company knows that you are in pain and worried about your financial future. Therefore, it is assumed that you will take the first deal you receive and try to move on with your life.
While it is certainly your right to take a quick settlement, it may not be the best possible offer. A San Antonio personal injury attorney who knows the law and how it applies in your case will fight for the maximum possible compensation while you focus on recovery.
We Can Help Gather Evidence to Bolster Your Case
An injury attorney from Zinda Law Group will encourage you to be seen by a doctor as soon as possible to establish that your injuries were caused by the negligent persons or company.
Our personal injury lawyers may also be able to find expert witnesses to testify on your behalf or find witnesses directly related to your case to offer additional testimony in court.
Physical evidence may also be used to help prove your case and cast doubt on any alternate theories presented in court. Ensure the best possible outcome for your case by getting a knowledgeable San Antonio personal injury lawyer from Zinda Law Group in your corner.
Our San Antonio Injury Lawyers Will Help Protect Your Rights
There are deadlines to file a personal injury claim, and our attorneys will help make sure that your case is filed before any statute of limitations expire. Our San Antonio accident attorneys can also inform you of the types of compensation that you may be entitled to and what parties may be liable.
For instance, if the driver who caused a car crash that led to your injuries was working at the time of the crash, his or her employer may be financially liable as well. If a doctor makes a mistake that leads to injuries, the hospital where he or she worked may also be held liable. Going after all responsible parties increases the odds that you get the damages you are entitled to.
Our San Antonio Personal Injury Lawyers Will Fight for You
If you have been hurt due to someone else's negligence, you should not be stuck paying the price. At Zinda Law Group, our Texas personal injury attorneys have helped thousands of clients get their lives back on track after an accident, and we can help you seek the maximum compensation for medical bills, property damage, lost income, pain and suffering, and much more.
We also believe an injury victim should never have to worry about being able to afford superior legal representation. That is why we offer 100% free consultations, and why you will pay absolutely nothing unless we achieve a favorable settlement, judgment, or verdict for your personal injury case. That's our No Fee Guarantee.
If you or a loved one has been injured in an accident, call Zinda Law Group at (800) 863-5312 to receive your free consultation with our San Antonio personal injury attorneys.
Meetings with attorneys by appointment only.
Recommended Reading:
How to Negotiate a Settlement with State Farm
How to Negotiate an Injury Claim with Liberty Mutual Insurance