Houston Personal Injury Lawyers
Call (800) 863-5312 to Speak with Houston Personal Injury Lawyers for Free
If you or your family has been injured in an accident, the Houston personal injury lawyers of Zinda Law Group can help. Suffering a personal injury is an experience no on deserves, but accidents occur every day due to the negligence, carelessness, or willful acts of individuals or companies.
Our accident attorneys can answer your questions and advise you on all your legal options. We have the knowledge and resources necessary to help you pursue maximum compensation for all the ways your injury has impacted your life. And as one of our clients, you will pay nothing unless we win your case.
To learn more about how our firm can help you, call Zinda Law Group at (800) 863-5312 for a 100% free case evaluation with our Houston personal injury attorneys.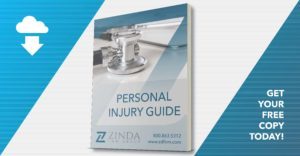 Maximizing Recovery for Personal Injury and Wrongful Death
When you are injured by a distracted or careless driver or you lose a loved one in a fatal crash caused by a drunk driver, the financial stress and hardships of mounting medical bills and time off work can impede emotional and physical recovery.
Our Houston injury attorneys are passionate about protecting members of our communities from big insurance companies and large corporations, who routinely use sharp practices and virtually limitless litigation resources to mitigate their liability.
Our Areas of Practice
At Zinda Law Group, our Houston personal injury lawyers have helped thousands of injury victims get their lives back on track after an accident. Our attorneys have decades of experience handling a wide range of cases, including:
No matter the type of accident that caused your injury, if it was due to the negligence of another, our Houston personal injury lawyers can help you seek the compensation and justice you deserve.
Our Houston Personal Injury Lawyers Will Fight for You
At Zinda Law Group, our Texas personal injury attorneys are dedicated to protecting your legal rights and helping you seek recovery of damages for medical bills, property damage, lost income, pain and suffering, and much more.
We also believe injury victims should never have to worry about their ability to pay for superior legal representation. That is why we offer 100% free consultations, and why you will pay nothing unless we achieve a favorable settlement, judgment, or verdict for your personal injury case. That is our No Fee Guarantee.
If you or a loved one has been injured in an accident, call Zinda Law Group today at (800) 863-5312 to receive your free consultation with one of our skilled Houston personal injury attorneys.
Meetings with lawyers are available by appointment only.
Recommended Reading: