UBER AND RIDESHARE ACCIDENT LAWYERS
CALL (888) 671-5127 TO SPEAK WITH AN UBER ACCIDENT LAWYERS FOR FREE
Uber and similar rideshare companies have become popular modes of transportation in recent years, but what happens if you or a loved one is involved in an Uber or Lyft accident, whether as an passenger, a driver or passenger of another vehicle, or a pedestrian? Your first step should be to contact the car accident lawyers at Zinda Law Group.
Our rideshare crash attorneys can answer your questions and advise you on all your legal options so you can make an informed decision on your best path forward. We have the knowledge and resources necessary to help you pursue the maximum compensation available, and as one of our clients, you will pay nothing unless we win your case.
To learn more about how our firm can help, call Zinda Law Group at (888) 671-5127 for a 100% free case evaluation with our experienced accident attorneys.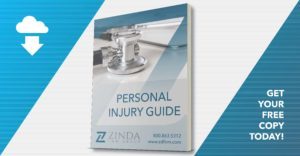 WHO'S RESPONSIBLE FOR AN UBER ACCIDENT?
Since its launch in 2009, Uber has built a global reach through its innovative approach to transportation, and today it operates in more than 600 cities worldwide and serves millions of users. In 2017, the company returned to Austin after a yearlong hiatus, joining a number of other ridesharing services in the city, including Lyft, Fasten, Ride Austin, and more.
Uber drivers are required to undergo a background check, have a clean driving record, and carry a personal insurance policy. However, they operate as independent contractors instead of employees, therefore Uber is not always responsible for the conduct of its drivers.
Depending on the status of the driver at the time of the crash, you may be required to pursue compensation from either the Uber's commercial insurance policy or the driver's personal automobile insurance policy. The Uber accident lawyers at Zinda Law Group can help you determine who is responsible for your injuries and help you pursue the compensation you deserve.
WHAT ARE MY OPTIONS?
If you have sustained injuries from an Uber vehicle, you may be able to file a personal injury lawsuit or an insurance claim to recover compensation for your medical expenses, property damage, and other costs.
Uber carries a $1 million liability insurance policy that can cover the car accident, but you must be able to prove your injuries were the result of the collision. The company will not provide coverage if the incident occurred while the driver had their Uber app turned off or was not on duty.
OUR EXPERIENCED UBER ACCIDENT LAWYERS CAN HELP
These types of incidents are usually very complex, as each accident may be treated differently based on its unique set of facts and circumstances. This is why it is essential to find a car accident attorney who has the experience necessary to handle your case.
If you have been injured in a ridesharing accident, the personal injury attorneys of Zinda Law Group will fight tirelessly to help you recover the compensation to which you are entitled. Call us at 888-671-5127 for a free consultation about your case.
Meetings with attorneys are available by appointment only.