Rear-End Car Accident Lawyers in Austin
Call (800) 863-5312 to Speak with Austin Rear-End Car Accident Lawyers for Free
Rear-end accidents are one of the most common types of vehicle collisions and are on the rise in the Austin area. These accidents can result in very serious injuries. It is crucial that you have legal representation from Austin rear-end car accident lawyers after being involved in a rear-end car accident and sustaining injuries.
If you or a loved one has been injured, call Zinda Law Group at (800) 863-5312 for a 100% free consultation with our rear-end car accident attorneys in Austin.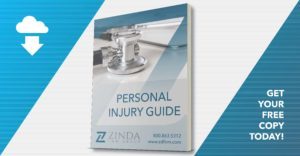 Types of Injuries from Rear-End Collisions
Some of the injuries that can be sustained from this type of accident are back injuries, head injuries, traumatic brain injuries, whiplash, broken bones, spinal cord injuries, internal injuries, and a number of others.
Such damage can range from minor, requiring only a few weeks of treatment, to catastrophic injuries or even fatalities.
Often, an individual that has just been hit from behind may not feel the injuries immediately. As it is likely that the effects of the damage will surface at a later time, it is urgent that you get medical attention immediately after an accident.
Common Causes of Rear-End Crashes
Unfortunately, distracted drivers are the number-one cause of rear-end accidents. Despite the fact that drivers should have all of their attention on the road when they are behind the wheel, many still cause accidents with their negligent behavior. Such distractions include texting, talking on their mobile phone, eating, adjusting the radio or GPS, or other distracting behavior. Drunk driving and driving under the influence of drugs are more severe examples of distracted driving. A drunk driver is unpredictable and dangerous to those around them.
Our Austin Rear-End Car Accident Lawyers Can Help
The Austin car accident attorneys at Zinda Law Group work with professionals in the field of accident investigation, as well as law enforcement and witnesses to collect evidence to help prove that the guilty party truly was at fault. We will use that information to seek fair compensation on your behalf for the injuries and emotional suffering you have had to endure.
Our goal is to zealously protect your rights, to help you, and to ensure that you get the compensation you deserve. We urge you to contact our firm at once for the legal representation you deserve from a Personal Injury Attorney.
To get started with your claim, call Zinda Law Group today at (800) 863-5312 for a 100% free consultation with our Austin rear-end car accident lawyers.
Meetings with attorneys are available by appointment only.