Midland Personal Injury Lawyers
Call (800) 863-5312 to Speak with Midland Personal Injury Lawyers for Free
If you have been hurt in an accident, the Midland personal injury lawyers at Zinda Law Group can help. Many injury victims have to deal with not only physical pain but also emotional and financial burdens. This can leave them overwhelmed with numerous questions:
How will I pay my medical bills?
Can I recover lost wages from missed work?
Is the insurance company offering me a fair settlement?
Fortunately, you do not have to face this difficult time alone. Our Midland personal injury attorneys can provide you with insight on all your legal options and help you pursue maximum compensation for all the ways your injury cost you. We will handle all the legal aspects of your case while you focus on what is most important: your recovery. You will pay nothing unless we win your case.
If you or a loved one has been injured in an accident, call Zinda Law Group at (800) 863-5312 for a 100% free case evaluation with our skilled accident attorneys in Midland, Texas.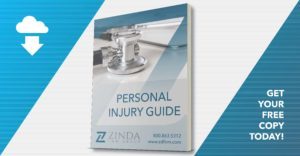 Types of Injury Cases We Handle
At Zinda Law Group, we handle the full spectrum of personal injury cases. Our experienced team of Midland injury attorneys have experience with the following case types:
How Our Midland Injury Attorneys Can Help You
At Zinda Law Group, we want to keep you in the know. Once you understand your legal rights and options, you can make an educated and informed decision about your legal future. If you've decided to file a claim, a Midland personal injury lawyer from our firm can take over the legal process for you so you can focus on healing.
When filing claim, our team of legal professionals can help you with the following:
Medical bills: We will make sure that any settlement covers not only your past and current medical expenses but also your future expenses as well. These expenses can include compensation for medical bills, hospitalization costs, rehabilitation and physical therapy expenses, prescriptions, caretaker costs, and the cost of surgery or reconstructive surgery.
Monetary damages: We will help you identify all of your economic losses such as property damage, vehicle repairs, past and future lost wages, transportation to and from the hospital, household assistance, and in-home medical care when needed.
Non-economic damages: We can help determine if you are eligible to collect additional compensation for non-economic losses such as loss of quality of life, emotional or psychological suffering, loss of livelihood, pain and suffering, or distress.
Wrongful Death: We want to help you receive compensation for all of the expenses associated with the loss of your loved one, including medical and funeral expenses, loss of income contribution to the family finances, loss of insurance benefits, loss of inheritance, and pain and suffering.  In addition, you may also receive compensation for your loss of society and companionship which is a loss of benefits such as love, comfort, and companionship to the surviving spouse or children.
Call Our Midland Personal Injury Lawyers Today
At Zinda Law Group, our Texas accident attorneys have helped thousands of injury victims get their lives back on track after an accident. We have the knowledge, experience, and resources necessary to help you pursue maximum compensation for all the damages you deserve under the law.
We also believe injury victims should never have to worry about being able to afford superior legal representation. That is why we offer 100% free consultations, and why you will pay nothing unless we win your personal injury case. That's our No Fee Guarantee.
If you or a loved one has been injured in an accident, call Zinda Law Group today at (800) 863-5312 to receive your free case evaluation with our skilled personal injury attorneys in Midland.
Meetings with lawyers are available by appointment only.